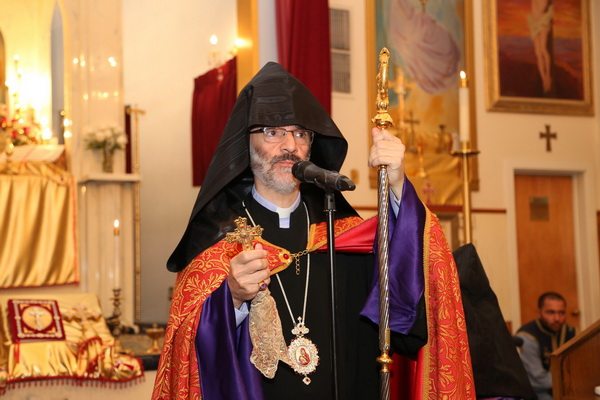 03 Nov

Prelate of Alepo visits in Canada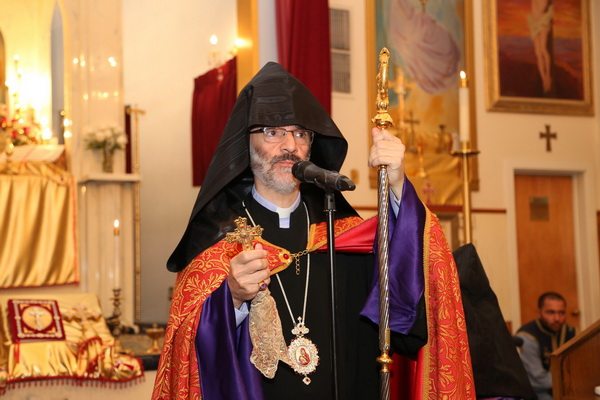 This week His Eminence, Archbishop Shahan Sarkissian, Prelate of Aleppo, is visiting the Armenian Communities in Canada to brief the public on the continuing crisis facing the Armenian community in Syria.
Funds raised at all of the events will help to keep the Armenian schools in Syria open and functioning. Archbishop Shahan Sarkissian, will meet with major communities in Canada From October 28-November 6, 2014. His Grace Bishop Meghrig Parikian will accompany His Eminence at the meetings taking place in Montreal and Toronto.
On October 28, Archbishop Sarkissian arrives Montreal and the Prelates will meet with Executive Council at the Prelacy. Wednesday morning, Prelates will visit Sourp Hagop Armenian School in Montreal. Afterwards, His Eminence will meet with Mr. Vahakn Karakachian, Horizon Weekly's Editor-in-Chief to conduct a face-to-face interview. Same evening, Prelates will meet with key community leaders and church Board of Trustees, as well as CANAR members and World Assembly Delegates.
Thursday morning, a special luncheon will take place with church leaders of the Armenian Community. In the evening Prelates will meet with Quebec Syria Aid Committee at the Prelacy.
Friday morning, October 31, Prelates will visit Sourp Hagop Day Care and Kindergarten. Friday evening, a public briefing on the continuing crisis will take place at Pastermadjian Auditorium, at 8pm.
On Sunday, November 2, Archbishop Shahan Sarkissian will celebrate the Divine Liturgy and deliver the Sermon at Sourp Hagop Armenian Apostolic Church in Montreal. Bishop Meghrig Parikian will preside. After the Liturgy, Archbishop Sarkissian will connect with the Armenian Community in Vancouver via SKYPE. Fellowship reception will take place at the Montreal Armenian Community Centre the evening of November 2, at 6pm.
On Monday, November 3, Prelates will travel to Cambridge and Toronto to hold similar events for the local community.
Please support these public briefings with your attendance and donation. If you are unable to attend but wish to contribute, you may do so by mailing your donation to the Armenian Prelacy of Canada, 3401 Olivar Asselin, Montreal, Quebec H4J 1L5.