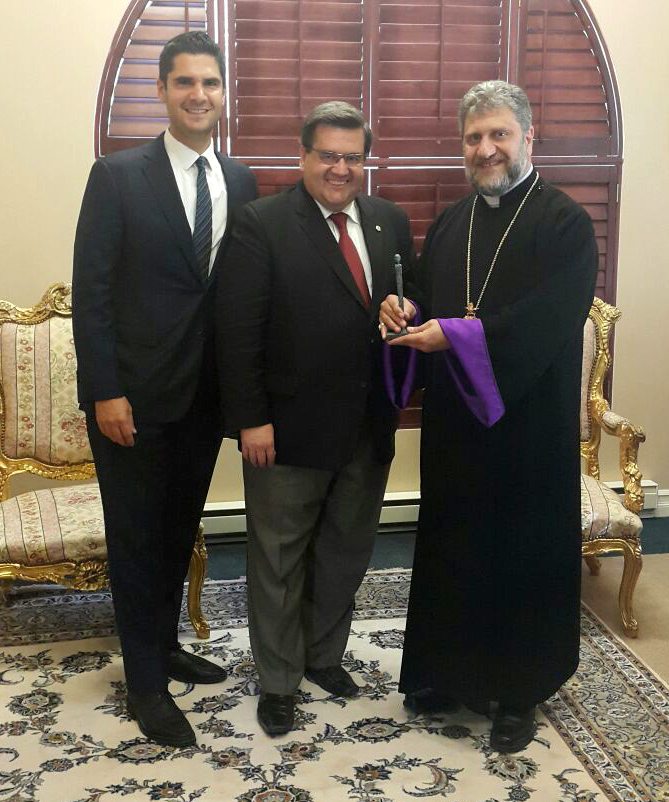 20 Aug

Prelate Tcharian meets with the Mayor of City of Montreal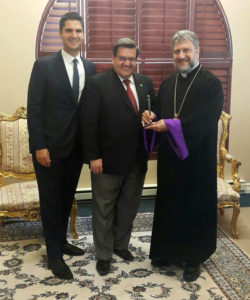 On Thursday, August 11, 2016, Mayor Denis Coderre paid a special visit to His Eminence Archbishop Papken Tcharian at Prelacy Headquarters in Montreal.
Mr. Coderre congratulated Archbishop Tcharian on his new election as Prelate of the Armenian Prelacy of Canada and welcomed him to Montreal.
Prelate Tcharian thanked the Mayor for his support and collaboration during the centennial of the Armenian Genocide. He appreciated the respect Mr. Coderre has shown towards the Armenian Community in the Greater Montreal and profoundly valued his friendship towards the Armenian people.
On the occasion of Montréal's 375th anniversary celebrations in 2017, Prelate Tcharian extended his personal and Armenian Community's support for the projects and events being organized for the year to come.
Mayor Denis Coderree gifted His Eminence a bronze sculptor by artist Jean-Daniel Rohrer, titling "L'Homme de la Paix", which symbolizes the relationship between the City of Montreal and the City of Hiroshima.