12 Nov

His Grace Bishop Parikian meets with His Eminence Bahi in Toronto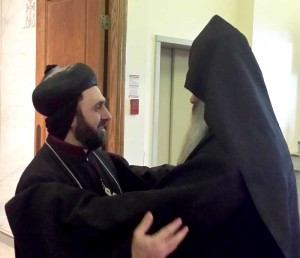 On Saturday, November 8, 2014, Archbishop Elia Bahi, Patriarchal Vicariate of Canada (Syrian Orthodox Church) and his entourage, visited Bishop Meghrig Parikian at St. Mary Armenian Apostolic Church to congratulate him on his recent election as Prelate of Canada.
The Syrian Orthodox Church of Antioch was established in AD 37 by St. Peter, the chief of apostles in Antioch the ancient capital of Syria. The faithful of this church are called Syrians after the name of Syria. At the dawn of Christianity members of this church were the people who had settled in upper and lower Mesopotamia who spoke Aramaic Syriac, which was the vernacular language of ancient Syria. They were converted to Christianity through the ministry of the apostles and disciples who scattered after the martyrdom of Archdeacon St. Stephen in Jerusalem. Many of them came to Antioch to preach the Holy Gospel.