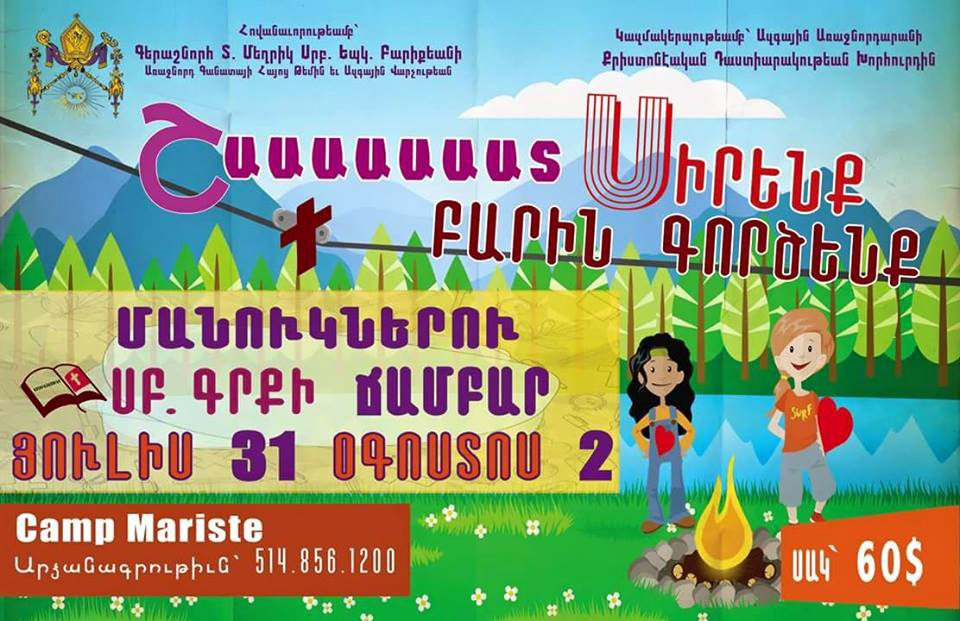 19 Jun

Children¹s Bible Study Camp Weekend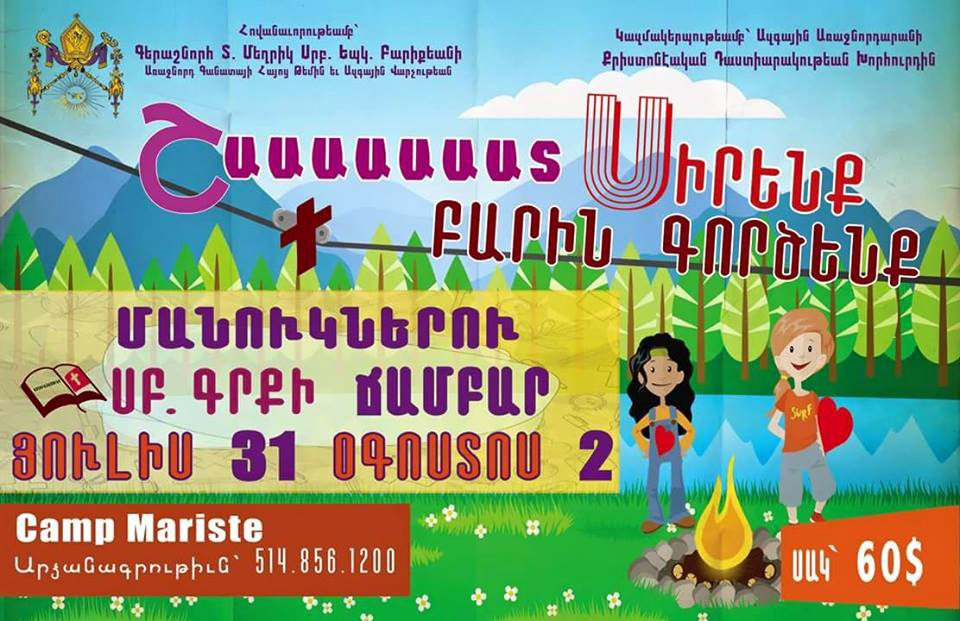 Children's Bible Study Camp Weekend
Under the auspices of His Grace, Bishop Meghrig Parikian, the Prelacy's Armenian Religious Education Council is organizing a bible study camp weekend, for children between the ages of 8-12.
The camp weekend will take place from July 31 to August 2 at Camp Mariste in Quebec. The Bible Study Camp will include indoors an outdoor fun filled educational weekend, where children will enjoy and appreciate nature. Children will learn the bible through interactive and a variety of activities.
To register and to reserve your space, please call Prelacy at 514-856-1200 or write prelacy@armenianprelacy.ca. Participation fee is $60.
Մանուկներու Սբ. Գրքի Ճամբար
Մեկնելով աւետարանին մէջ յիշուած Յիսուսի խօսքէն որ կ'ըսէ "Թոյլ Տուէք որ Մանուկները ինծի Գան", Գանատայի Ազգային Առաջնորդարանը, Հովանաւորութեամբ  Առաջնորդ Տ. Մեղրիկ Սրբ. Եպս. Բարիքեանի եւ կազմակերպութեամբ Քրիստոնէական Դաստիարակութեան Խորհուրդին, Յուլիս 31- Օգոստոս 2,  Camp Mariste-ի մէջ տեղի պիտի ունենայ մանկական Սբ. Գրքի Ճամբար 8-12 տարեկան մանուկներու համար։
Մասնակցողները պիտի անցնեն զուարճալի պահեր, ներառեալ երգի ուսուցում եւ սուրբ գրային մանկապատանեկան զանազան աշխատանքներ ու խաղեր:
Յաւելեալ տեղեկութեանց համար հեռաձայնել Առաջնորդարան 514-856-1200 թիւին։ Մասնակցութեան սակ 60$։