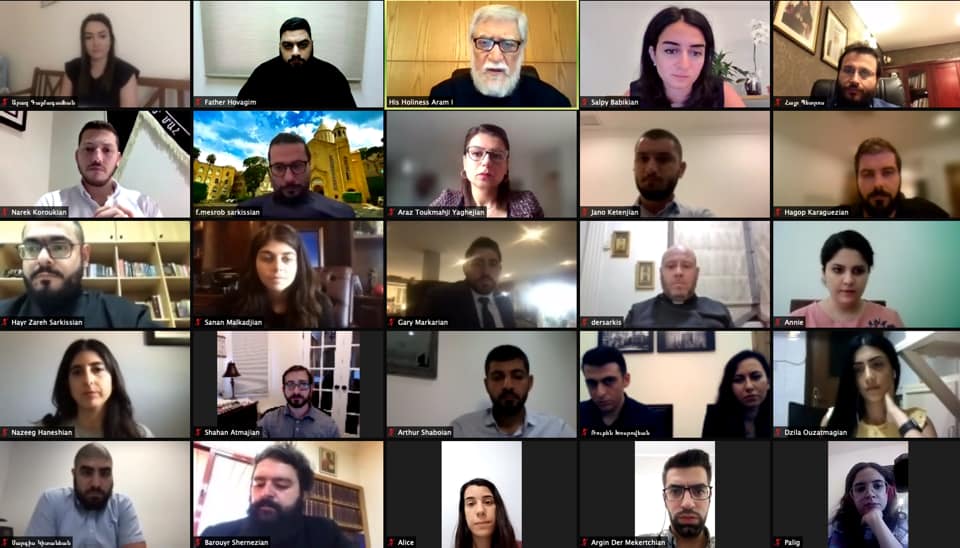 17 May

Catholicosate of Cilicia organizes an online Youth Conference

"WE MUST BRING TOGETHER OUR YOUTH GIVING THEM AN ACTIVE ROLE WITHIN OUR NATIONAL AND RELIGIOUS CAUSE" STATES HIS HOLINESS ARAM I

On Friday May 14th, 2021, with the blessings and auspices of His Holiness Aram I, Catholicos of the Great House of Cilicia and organized by the Catholicosate's Youth Department, a worldwide virtual youth roundtable was held via Zoom. Youth from prelacies across the world participated in the roundtable headed by H.H. Aram I alongside the Catholicosate's clergymen.

Following Catholicos Aram I opening prayer, His Grace Bishop Mesrob Sarkissan, Chair of the Youth Department delivered the introductory remarks. H.G Sarkissian recalled the roundtable held in 2019 within the Catholicosate. Due to the onset of the COVID-19 global pandemic, the ability to expand on ideas noted at that meeting was not possible. With the prolongation of the pandemic, it was only right to continue these discussions without further delay. At the end of Bishop Sarkissian's remark, he invited His Holiness Aram I to deliver his blessings and vision to the present youth.

His Holiness Aram I welcomed the youth and thanked them for taking the time out of their day to join the virtual youth roundtable. His Holiness emphasized the importance of creating opportunities like this, in order to provide a spotlight to Armenian youth, in order for them to be heard and listened to.

Catholicos Aram I stated: "The youth must have a larger role within our Church, our nation, and within our local communities, because as I regularly say, the youth is our present-day leaders, not only our future-day leaders. Without our youth, who need an active leadership role in our everyday institutions, our future cannot be shaped."

His Holiness continued: "Today's changeless, familiar-tune institutions with the same, continuous approach have become insignificant and irrelevant to our youth. This is why, within our church and community lives, it's critical for our youth to have an active role and voice – contributing their valuable time and service."

In conclusion, His Holiness Aram I said: "In today's present-day world dynamic, structures like forums and dialogues allow for the exchange of ideas – and in our institutions, these types of structures should not be secondary and left on the back-burner, instead it should be a primary source of foundational ideas that should revolutionize the church and nation.

Following his remarks to the youth, His Holiness Aram I left the virtual meeting leaving the youth to express their ideas more open and freely.

Following presentations led by Very Rev. Fr. Bedros Manouelian, Very Rev. Fr. Zareh Sarkissian, and Very Rev. Fr. Hovagim Panjarjian, Very Rev. Fr. Barouyr Shernezian led the open discussion amongst the youth. The present youth discussed ideas and concerns about the present-day role of Armenian youth and ways they can have new purposeful and focussed initiatives to have them more involved.

At this conference, the Armenian Prelacy of Canada was represented by Nazeeg Haneshian, Sarkis Kidanian and Araz Tokmahji; 2021 Youth Ambassadors of the Prelacy.