04 Oct

CATHOLICOS ARAM I: CELEBRATING TWENTY YEARS OF SERVICE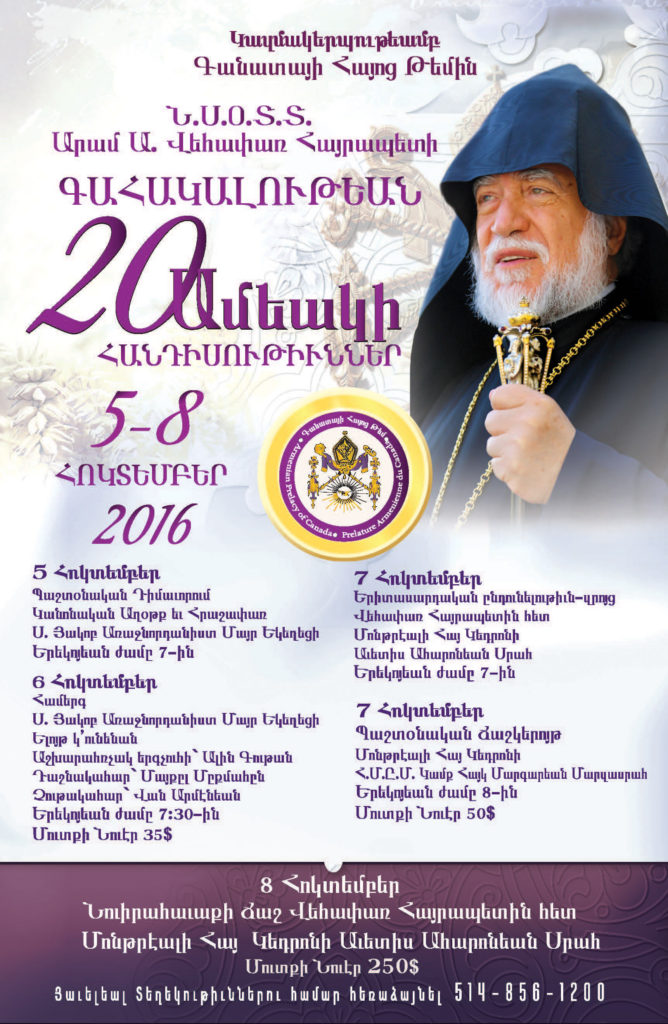 The more than two decades of visionary leadership of His Holiness Aram I, Catholicos of the Holy See of the Great House of Cilicia, will be marked from Wednesday, October 5th to Saturday, October 8th, in Montreal, Canada.
The celebratory day will begin on October 5th with a visit to Sourp Hagop Schools and Hrashapar starting at 7pm at Sourp Hagop Church. October 6th is dedicated to an Ecumenical gathering-luncheon and a special concert in the evening, performed by world-renowned artist Aline Kutan.
On the evening of October 7th, His Holiness will meet with the youth and discuss SIS case and the challenges of the Armenian Church followed by an official banquet to celebrate His Holiness's 20th anniversary of enthronement as Catholicos of the Great House of Cilicia.
A special fundraiser luncheon is organized on October the 8th and later the Pontiff will depart to New York, USA.