29 Jun

Prayer for Christians of the world

Աշխարհի Քրիստոնեաներու Միութեան Հաւաք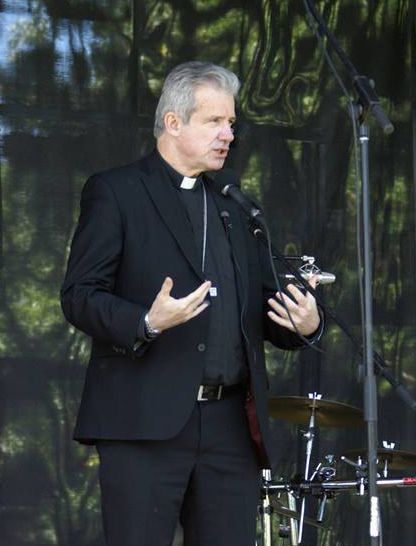 Շաբաթ, 20 Յունիս 2015-ին, Գանատայի Հայոց Թեմի Առաջնորդ՝ Գերաշնորհ Տ. Մեղրիկ Սրբ. Եպս. Բարիքեան, հրաւիրուած էր Մոնթրէալի Կաթողիկէ Արքեպիսկոպոս՝ Արհիապատիւ Քրիսթիան Լաբէնի հրաւէրով, մասնակցելու «Աշխարհի Քրիստոնեաներու Միութեան Հաւաքին»: Հաւաքական սոյն աղօթքին, Առաջնորդ Սրբազանը ներկայացուց Հոգեշնորհ Տ. Վարդան Աբղ. Թաշճեանը։
His Grace Bishop Meghrig Parikian, Prelate of the Armenian Apostolic Church Canadian Prelacy, was invited to participate in the "Christian Gathering in Union with All the Christians of the World". Very Rev. Fr. Vartan Tashdjian represented Prelate Parikian.
The Christian Gathering took place on Saturday, June 20, 2015, at Ahuntsic Park in Montreal. The gathering was presided by the Archbishop of Montreal, Most Rev. Christian Lépine, in collaboration with the ecumenical organization The Christian March. Its purpose was to make the Christians of Quebec aware of their indispensable role in society and around the world.
Samedi dernier, le 20 juin 2015, avait lieu le premier Rassemblement chrétien, au parc Ahuntsic à Montréal. Présidé par l'archevêque de Montréal, Mgr Christian Lépine, en collaboration avec l'organisme oeucuménique La Marche chrétienne, ce rassemblement voulait faire prendre conscience aux chrétiens d'ici le rôle indispensable qui leur revient au sein de la société et dans le monde entier.